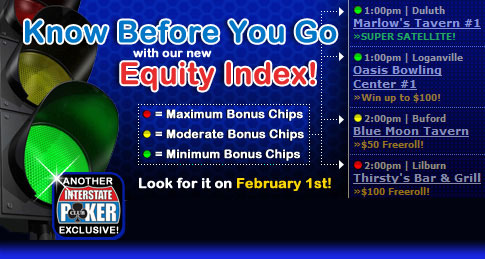 Presenting the all-new "Equity Index"

Our exclusive Equity Index provides players with at-a-glance knowledge of what kind of bonus chip structure a tournament will offer before heading to the venue.
This "know before you go" approach will simplify the process of choosing where to play and will eliminate any unwelcome surprises related to bonus chip structure upon arriving at the venue.
How does it work?
All tournaments listed on our website feature a color-coded icon that designates which add-on structure will be used during the tournament.
The icon designations are as follows:

= Standard Tournament w/ Maximum Add-ons (unrestricted)

= Standard Tournament w/ Moderate Add-ons (4 add-ons)
= Standard Tournament w/ Few Add-ons (3 add-ons)

= TURBO Tournament w/ Minimum Add-ons (2 add-ons)
= Little Kings & Queens Charity Tournament (1 add-on + 50/50 raffle)
Please note that tournaments designated as red-tier events are unrestricted and the number and value of bonuses will vary. Yellow- and Green-tier tournaments will adhere strictly to our pre-defined Add-on Distribution Schedule.
Earn Bonus Points!
Club Members who make it to the final table at any green-tier tournament will earn bonus points ranging from 5 for 10th place to 50 for 1st place.
Have questions?
We have posted answers to some of the most common questions you might have. View Bonus Chip/Equity Index FAQ
Tell us what you think!
Have questions or comments regarding the new bonus structure or Equity Index? Send us an email or give us a call at 770-233-3131. As always, all feedback is greatly appreciated!


Atl Northeast
Atl Northwest
Atl South
Copyright © 2006-2016 Bar Game Promotions, Inc. All rights reserved
Original Site Design, Database Development & Graphics by
:: Justin Vandermark ::