MON 07/11

7:00pm - Marietta
The Wing Cafe & Tap House
»Win House Cash!
»$500 Venue Qualifier!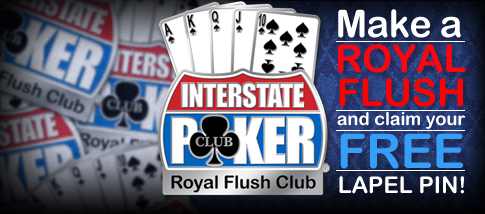 The
Royal Flush Club
has been implemented to recognize and reward League Members who manage to beat the seemingly insurmountable odds of 1 in 649,740 to secure poker's most coveted hand during tournament play - the Royal Flush.
How to claim your reward:
Step 1: Make a Royal Flush!
Step 2: Ask your Tournament Director to confirm and log your achievement
Step 3: Use the search tool below to verify that your Royal Flush was recorded
Step 4: Send a self-addressed, stamped envelope to:
Royal Flush Club
c/o Interstate Poker Club
554 W. Main Street Bldg 100A
Buford, GA 30518


GA South

2:00pm | Jonesboro
Taps Bar and Grill
»$300 Freeroll*
»$500 Venue Qualifier!

7:00pm | Atlanta
J.R. Crickets College Park
»$150 Freeroll*
»$500 Venue Qualifier!
Special Events
Copyright © 2006-2022 Bar Game Promotions, Inc. All rights reserved
Original Site Design, Database Development & Graphics by
:: Justin Vandermark ::